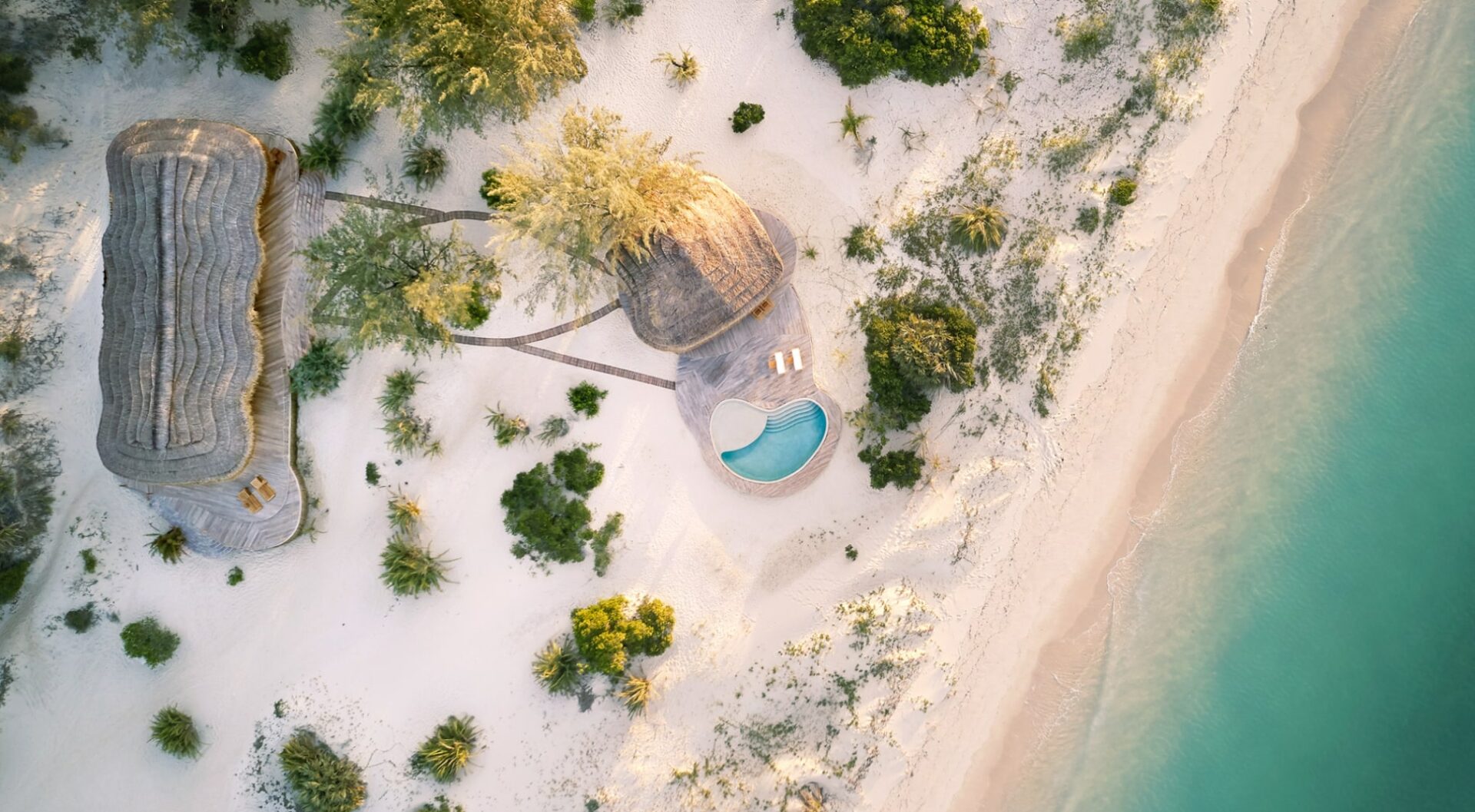 Kisawa Sanctuary is a new standard in luxury hospitality. Pairing cultural celebration with environmental conservation on Benguerra island, Mozambique, Kisawa's ambition is to bring wilderness and service together, carefully and comfortably. Benguerra island is situated 14 kilometers off Mozambique, on the Eastern coast of Africa. Part of the Bazaruto Archipelago, this WWF National Marine Park is home to some of the richest and least explored subtropical ecosystems in the Indian Ocean.
Kisawa is a combination of 14 one, two and three bedroom bungalows, positioned within a 300-hectare stretch of forest, beach and sand dunes. Each bungalow (380 square meters of internal space and 560 square meters of external space) is housed within its own one acre plot, offering maximum privacy, minimum disturbance and optimum appreciation of the natural environment.
Tradition meets technology in Kisawa's distinctive architecture and groundbreaking use of natural materials. Central to this innovation is a building component created from Benguerra Island's own sand and saltwater. Replacing less sustainable, commonplace construction practices, this sand- based mortar is used in two distinct ways. Firstly, it is utilised across various elements of the build, such as facades to create a tactile and natural finish. The same raw sand amalgamate is also used as the base material for a patented 3D sand-printing technology, commissioned specifically for this project. Mortar fed into the 3D printer, in situ on the island, is printed into individually specified construction elements, from masonry to flooring and tiling. The end result is not an entirely 3D printed architectural structures, but rather architectural structures built with 3D printed components. These two unique methods of building are used throughout the sanctuary and are merged with Mozambican weaving, thatching, carpentry and textile skills, involving artisans from Benguerra and neighbouring islands
In addition to private dwellings, guests can also choose between multiple dining venues across the Sanctuary, including two beach clubs, a lagoon- style swimming pool, Barraca beach bar, a library and a lounge at the main terrace. A stand-alone spa specialises in traditional Chinese medicine and Ayurvedic offerings with striking architecture inspired by the island's thatched houses and community buildings.
Architect
Plus Design Studio
1354 Lachman Lane, Pacific Palisades